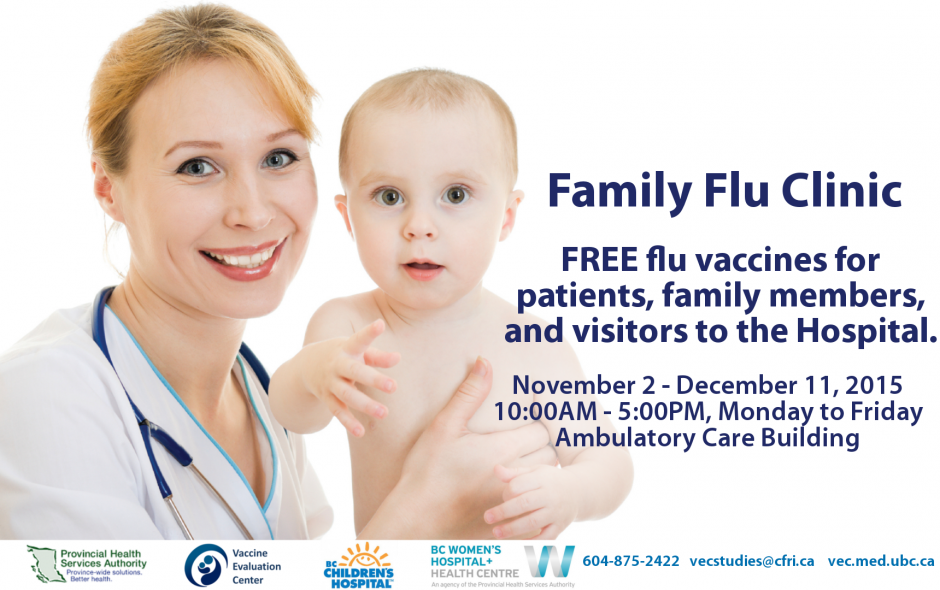 The VEC is proud to announce that during the Family Flu Vaccine Clinic we vaccinated nearly 2,000 visitors and patients to BC Children's & Women's Hospital!
We were happy to provide a convenient location for patients and visitors to be immunized against the flu. Thank you for your support!
**Clinic is now closed for the season**
If you haven't received your flu vaccine yet, click here for the Flu Clinic Locator
---
BC Children's Hospital is offering free flu vaccine for children, family members, pregnant women and visitors to patients in the hospital. Refer your patients and their families to our drop-in clinic located in the Ambulatory Care Centre. Please note that the clinic is not intended for staff members.
Both pediatric and adult flu vaccines are available. An on-site nurse vaccinator will advise about who needs flu protection and which vaccine is best suited for each person.
Why is BC Children's Hospital providing a free flu vaccine clinic at the hospital?
Children experience the highest rates of seasonal influenza (15% – 25%) of any age group and are at highest risk of complications of influenza (especially those patients with chronic medical conditions). Since many "high risk" children pass through the ambulatory clinics of BC Children's each day, this provides them a convenient opportunity to receive influenza vaccine. Providing influenza vaccination to family members and visitors to patients in the hospital also maximizes protection of high risk children.
Who should attend the flu vaccine clinic?
Please refer your patients and their families, friends and visitors to our drop-in clinic.
Clinic Location and Hours
Drop by our clinic in the Ambulatory Care Centre (main level where the thrift shop was) across from Unit 7. Signs will be posted in the main lobby giving detailed directions to our clinic.
Dates: November 2 – December 11, 2015
Hours: Monday – Friday, 10:00 a.m. – 5:00 p.m.
Location: Ambulatory Care Centre at BC Children's Hospital; Main Level, Old Thrift Store
Please let your nursing staff know about this clinic, so that they may refer patients, families and visitors. If you have any questions, feel free to contact our Nurse Coordinator, Ivor Chee.
For more information, visit our website: www.vec.med.ubc.ca and watch our video here.
Contact Information:
Vaccine Evaluation Center
Ivor Chee, Nurse Coordinator
vecstudies@cfri.ca
Tel: 604-875-2422